Step 1 is To Make Sure Your SI-joint is Properly Aligned.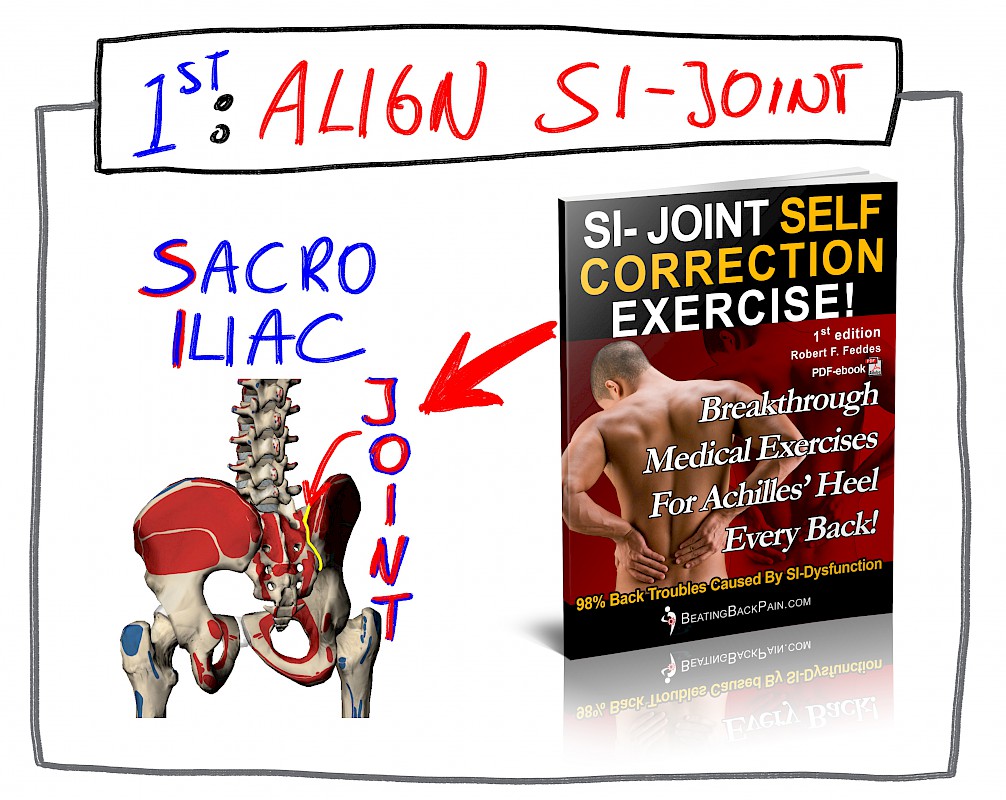 Your Sacro Iliac Joint connects your spine with your pelvis.
In the image above you see a yellow line showing the SI-joint on one side.
This is the foundation of a healthy back.
Moving with ease requires this joint to be properly aligned.
Recent research shows that out of 1000 cases of people with a variety of longer lasting back problems (with many herniated discs), 98% suffered from a SI-joint dysfunction.
When the SI-joint was corrected, the vast majority of all troubles disappeared all by themselves.
Last time my back popped out, it was in fact this joint that slightly went out, and my body immediately reacted by a very painful freezing of my muscles aimed at limiting the damage.
When this joint even goes out slightly, your muscles tension because your body tries to prevent this joint from even going out further, but...
...the unique shape of this SI-joint often makes it simple for the joint to stay put in the wrong position.
So you need to be able to correct this joint, because...
...as soon as you do that your muscles can relax again and this will make all the difference.
But what does this have to do with herniated or bulging discs, you ask?
Here you see a photo of what happens when a wheel on your car is misaligned...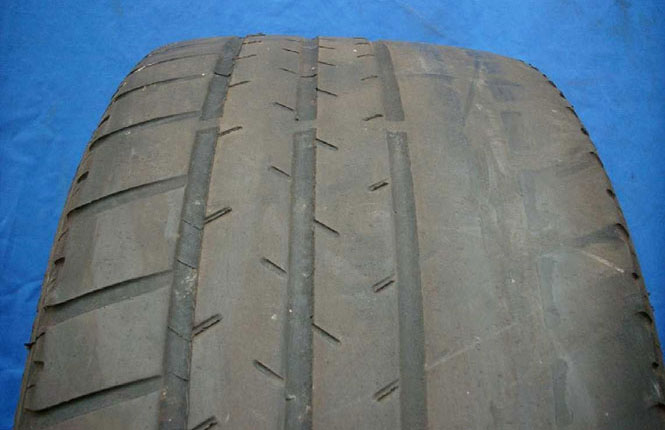 On the right you see hardly any thread left, on the left there is still some.
This uneven wear is the result of misaligned wheels.
A similar thing happens with our intervertebral discs...
Beginning with your SI-joint...
If this joint is slightly misaligned, it will lead to increased wear and tear of the intervertebral disc(s) somewhere in your back or even the neck.
A misaligned SI-joint is known to lead to increased muscle tension...
...which makes matters even worse...
...because the increased muscle tension leads to more compression of the discs.
And the combination of misalignement AND increased muscle tension AND disc compression easily leads to one or more of your disc(s) being unable to bear the brunt any longer.
If uncorrected, a misaligned SI-joint WILL lead to trouble, sooner or later.
But it is fortunately easy to correct yourself. You don't even need a chiro or physio for that.
You can do this at home with the BackPainGoodbye SI Joint Self Correction Exercise Program.
The SI-Joint Self Correction Exercise Program alone is valued at 79 $, which is not even much since it allows you to correct your own SI-joint.
But rest assured you do not have to pay that for it at all. You'll see!
Let's look at Step 2 shall we?